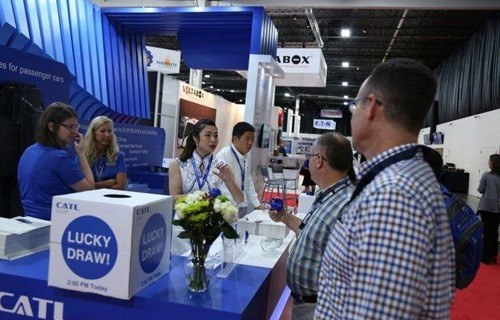 China's largest battery maker has taken a large controlling stake in a lithium project in Quebec, as companies rush to get access to supplies of the key raw material.
中国最大电池制造商收购了加拿大魁北克省一个锂矿项目的控股权。目前企业正急于保障这一关键原材料的供应。
The purchase comes as Contemporary Amperex Technology, or CATL, is rapidly expanding its production of electric car batteries with the aim of becoming the world's largest producer by 2020.
达成这笔交易之际,宁德时代新能源科技有限公司(CATL)正在迅速扩大电动汽车电池产量,其目标是到2020年成为全球最大的电池制造商。
The Ningde-based company is set to raise $2bn through an initial public offering in China this year, valuing it at $20bn.
这家总部位于福建省宁德的公司今年将通过在中国进行首次公开发行(IPO)筹集20亿美元资金,令其估值达到200亿美元。
CATL bought 36.6m shares of North American Lithium from Chinese company Jilin Jien Nickel Industry, to make it a controlling shareholder with over 90 per cent of the shares, according to statements Monday. The Quebec government owns a 5 per cent share in the company.
根据周一的声明,宁德时代向中资的吉林吉恩镍业(Jilin Jien Nickel Industry)收购了北美锂业(North American Lithium)的3660万股票,以90%以上的持股成为控股股东。魁北克省政府拥有北美锂业5%的股份。
Jilin Jien Nickel Industry, which bought the company in 2016 out of bankruptcy, said it no longer had the money to fund its lithium project in La Corne Township.
2016年收购已进入破产的北美锂业的吉林吉恩镍业表示,它无法再满足北美锂业在La Corne镇的锂项目的资金需求。
Discovered in 1942, the mine once provided lithium to the US Atomic Agency in the 1950s.
这座锂矿于1942年发现,曾于20世纪50年代向美国原子能机构提供锂。
The mine is expected to produce 23,000 tonnes of battery grade lithium carbonate every year, according to the company's website.
据该公司官网介绍,该矿预计每年生产2.3万吨电池级碳酸锂。
Lithium prices have more than doubled over the past two years due to growing sales of electric cars, especially in China.
随着电动汽车销量增长-特别是在中国-锂的价格在过去两年翻了一番多。
The Canadian Environmental Assessment Agency is currently conducting an assessment into the open pit mining project.
加拿大环境评估局(Canadian Environmental Assessment Agency)正在对这个露天采矿项目进行评估。
Earlier this month CATL invested C$50m into North American Lithium, and an additional C$16m in a convertible bond.
本月早些时候,宁德时代向北美锂业投资5000万加元,另出资1600万加元认购可转债。

Dove Tan
2018.04.13
Disclaimer: This article comes from individual, KRECO has the right of final interpretation.
声明:本文来自个人,KRECO公司拥有最终解释权!